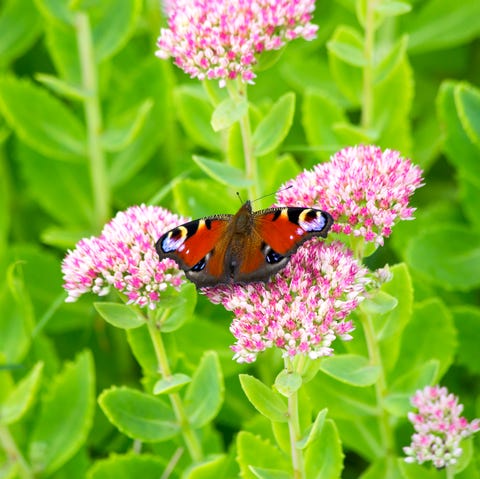 FLOWERS THAT ATTRACT BUTTERFLIES, BUT NOT BEES
We all want beautiful butterflies in our gardens, but we also want our children to be safe from the bees.
Achillea, Yarrow.
Asclepias tuberosa, Butterfly Milkweed.
Gaillardia grandiflora, Blanket Flower.
Hollyhock, Alcea rosea
Helianthus, Sunflower.
Chrysanthemum maximum, Shasta Daisy.
Lobularia maritima Sweet Alyssum.
Aster, Aster.
Rudbeckia hirta,
 Black-eyed Susan or Gloriosa Daisy Coreopsis,
 Coreopsis Cosmos,
Cosmos Dianthus,
 Dianthus Echinacea purpurea,
Purple Coneflower Rosa
Roses Verbena bonariensis,
 Verbena Tagetes,
Marigold Zinnis elegans
Zinna Phlox, Phlox
These are the flowers that will attract butterflies. But do they attract bees too?
FIRST LET ME CLEAR YOUR MINDSET ABOUT BEES FROM THE EXPERIENCE OF THIS AWESOME GARDENER.
Gardner 1 – If you have caterpillars, you probably will get bees. They are at least liked by wasps. Many of the bees I see on my nectar plants don't pay much attention to me. Teach her to look before touching, and to distinguish between wasps from bees that are in nectarine.
Gardner 2– Most plants that attract butterflies are going to attract bees too. They both like nectar…Perhaps having a few bees around can help you teach your grand-daughter that bees are relatively harmless and they mind their own business when left alone?
Gardener 3 – I agree, that you should teach her how to coexist with bees and that they will not hurt her unless provoked. I am allergic to bees and realized that I had two choices — stay out of the garden (never!) You can learn to live with them.